Traditional funeral flowers – in particular casket and wreath designs – are fundamentally unsustainable. This is because they are almost always created in plastic floral foam. Fortunately, there are more sustainable floral design alternatives for these deeply personal end-of-life ceremonies.  
Funerals and flowers
Organising flowers for a funeral is probably one of the most emotionally-fraught flower purchases a customer can make. The customer is often a family member, suddenly forced into organising the post-death processes for their loved one while suspended in the rawest space of grief.  If the deceased was a flower lover, then the choice can take on additional symbolism that extends beyond the decorative tribute that holds mourners' attention during the ceremony. 
Both flower and funeral service providers aim to minimise the emotional distress of the client. They must keep processes as simple and efficient as possible while working to time pressures involving multiple settings.
However, there is a problem brewing in the world of cemeteries and burials. Multiple studies have shown that cemeteries are sources of local groundwater contamination – what goes into the ground can leach through the soil and into the water system. Given what we now know about the negative impact of floral foam — and plastic in general — on aquatic animals, there is an urgent need to move to alternative, eco-friendly designs for funeral tributes and stop polluting the natural environment with plastic.
Traditional casket and coffin decoration
The most popular traditional design for coffin decorations is set in a plastic tray or saddle loaded with blocks of plastic floral foam. The foam provides support and hydration for the flower arrangement and the tray catches the drips and offers a solid base underneath the weight. The complete item is stable and portable, and can be done several days in advance. Most significantly, the final symmetrical design that tapers at both ends is etched into customer expectations of what a casket decoration "should" look like.
However, this design is fundamentally unsustainable. It introduces a wasteful single-use plastic in the midst of a global effort to slash our plastic consumption. Because it is common practice to bury flowers with the caskets, it works against efforts to prevent plastic pollution in the natural environment. And even if the arrangement is not buried, combining flowers and crumbling plastics makes separating waste for correct disposal almost impossible.
Eco-friendly casket and coffin decoration
Hand-tied sheaf
The most environmentally friendly alternative for this design is a hand-tied sheaf arrangement. This design is a flat-backed, hand-tied design that sits on top of the coffin or casket during the ceremony. It is not symmetrical at both ends. Instead, one end is a completed bouquet that is positioned to face the mourners and one end has open cut stems. 
This design requires no other supports other than ties to hold the flowers together. The absence of additional floral sundries in the construction means that this design supports zero-waste objectives and can be safely buried, provided natural fibre ties/ribbons are used. And if local, seasonal flowers are used to create the design, then this design will also produce the smallest carbon footprint.  
Most experienced florists are familiar with this style of casket decoration and can competently create a hand-tied sheaf. Because the sheaf is presented without a water source, it must be kept cool or in water for as long as possible before the service. Most experienced funeral directors are familiar with this design and are aware of its limitations compared to casket sprays created using floral foam and they should be able to manage placement on the coffin accordingly.
The smallest environmental footprint
What to ask for when seeking a design with the smallest environmental footprint: a hand-tied sheaf in local, seasonal flowers.
Hand-tied funeral sheaf by Happy Roots Farm, UK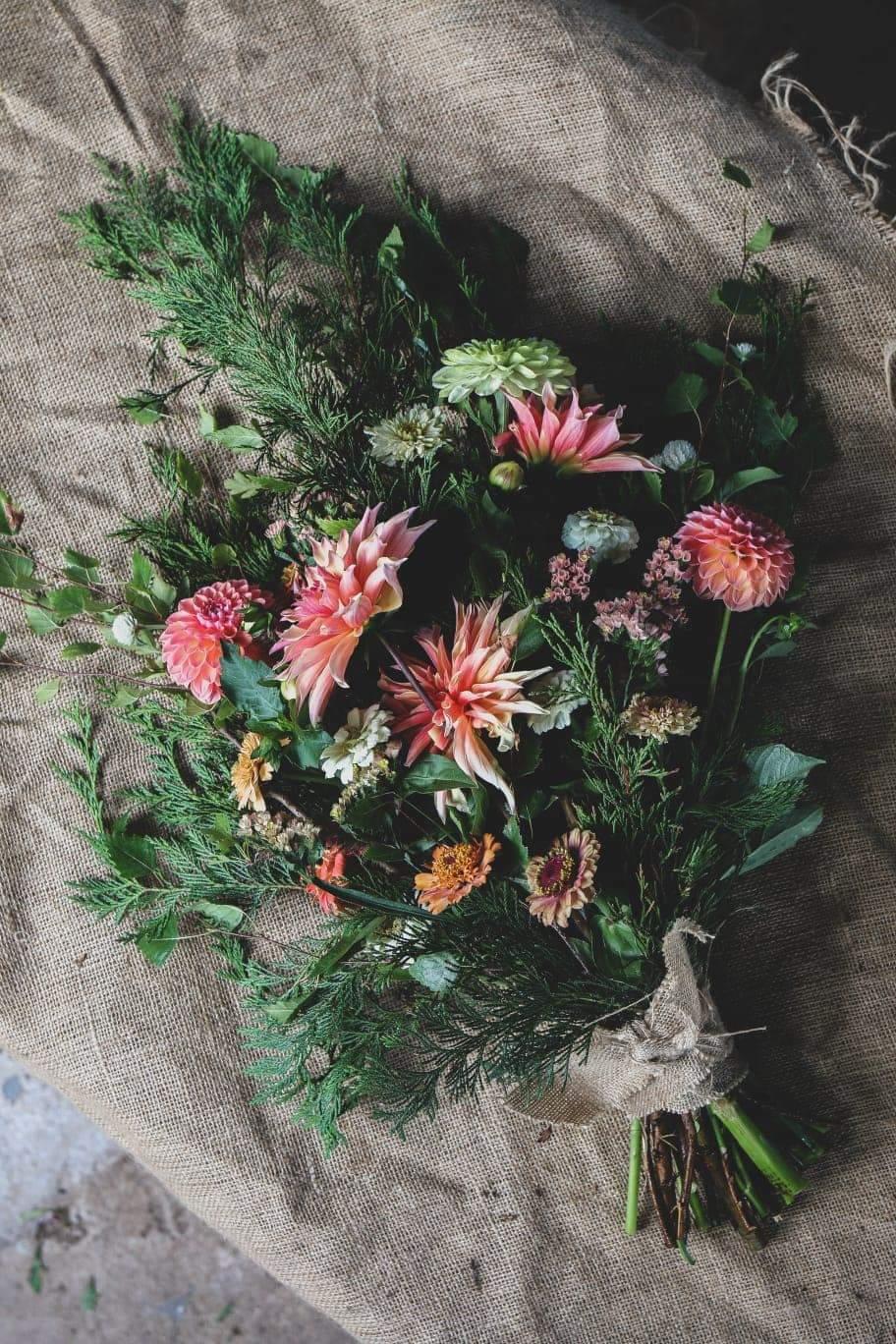 Hand-tied funeral sheaf by Happy Roots Farm, UK
Hand-tied sheaf by Pipley Flowers, UK.
Hand-tied sheaf by The Posy Patch, UK.
Hand-tied sheaf By Sarah Penny Flowers, UK.
Traditional casket spray using a foam alternative 
Many florists are now using floral foam alternatives to create their designs. Some florists make their own reusable bases from chicken wire and moss, or from a combination of containers and supports made from natural fibres/mineral-based supports. If designed for reuse, then the client must be aware that the base cannot be buried with the deceased.
Making funeral sprays in this manner requires skill and commitment to eco-friendly practices. As a customer, you may need to shop around to find a florist skilled in these techniques. 
Some floral foam alternative products can be safely buried, but some cannot. The most sustainable foam alternative suitable for funerals is called the 'Oshun Pouch'. This product is not yet available in all countries. However, the range of products suitable for safe burial is expected to expand in coming years as manufacturers appear with new products. 
Fully compostable curved casket tribute by Ellen Douglas, Botany, AU.
Fully compostable curved casket base by Ellen Douglas, Botany, AU.
Example of a double-ended casket spray made in a base made of natural materials - by Sarah Penny Flowers, UK.
Casket base made from sustainably harvested moss and all natural materials by Sarah Penny Flowers, UK.
Casket decoration made with an Oshun Pouch base
Base of design showing the Oshun Pouch on a palm leaf base.
Traditional wreaths
The significance of the wreath shape is significant across many cultures. Wreaths are popular funeral or memorial tributes, and often sent as a gesture by family and friends of the deceased. These may appear upright on a stand, or be placed on the ground along with other floral tributes.
Traditional design techniques use rings of floral foam or polystyrene to support the flowers. As with traditional casket or coffin decoration, this practice is unsustainable, creates large amounts of waste and flowers used cannot be sent for green waste composting.
A traditional wreath incorporating fresh flowers is usually done in a ring of floral foam.
Rings of floral foam in hard plastic bases are regularly used to create wreaths featuring fresh flowers.
A used wreath base with holes from the flower stems.
Used foam bases destined for landfill disposal.
These wreath bases are made from polystyrene and will be sent to landfill.
Eco-friendly wreaths
It is possible to create eco-friendly wreaths using natural plant materials to create a base. Eco-friendly wreath design approaches can be used for both decorative and commemorative wreaths. 
This approach to wreath making results in more natural looking designs that may not adhere to the flower-dense look customers have come to expect with traditional wreaths. This is because the cut stems are not hydrated and florists are restricted to using materials that fare well without a water source.
In some countries, wreath bases made from rockwool are available. These products are not plastic and can be safely buried with a coffin, provided they are on a biodegradable base made from natural fibres.
An alternative to commemorative or tribute wreaths that are presented at a funeral service is a flat backed bouquet, similar to a small sheaf. This style of arrangement is designed to be viewed from one side. Once any wrapping or packaging has been removed, the flowers can easily be placed in green waste, as the stems will not be contaminated with floral foam.  
An inspiring example of this approach was observed on the coffin at the recent funeral of Queen Elizabeth II. The wreath was made entirely of natural plant materials sourced from the Buckingham Palace Gardens.
Bespoke designs
Not all funeral customers adhere to traditional designs. To personalise their tribute, some individuals opt for novelty or individual designs as way of honouring the deceased.
Floral foam manufacturers offer a range of letters and shapes for these purposes. The creation and disposal of these is unsustainable.
However, skilled florists can work with clients to create unique designs.
The following designs were created using a combination of foam-free techniques, with wood, moss and foam alternatives to create a base support.
Advice for florists
Delivery
As with everything, funerals are subject to cost and time pressures. Slotting a specifically-timed flower delivery into the schedule of a busy funeral home or retail shop isn't always possible, especially if you are relying on rigid delivery runs set by external couriers. But if wedding bouquet deliveries can be made to coincide with the arrival of photographers and the ceremony, then surely the same considerations should be made for funerals, especially given the significance of the ceremony in the person's life.
Communication
Communication plays a critical role in shifting the system. David Stevens, manager of operations at Tobin Brothers Funerals in Australia, says the company is equipped to manage the hydration requirements of hand-tied tributes with buckets of water at their mortuary locations. The flowers are kept in water until the hearse is ready to depart for the service and staff are familiar with the process of positioning the flowers on the coffin or casket. David encourages florists to deliver in buckets, and always call ahead to check times and locations of services and establish a direct line of communication between the funeral home and florist.
Good business practice for all
It is good business practice for both florists and funeral home operators to give customers the option to select an eco-friendly design.
Things you can do:
Produce the lowest environmental footprint with a hand-tied sheaf made from seasonal, local flowers for the coffin or casket.

Consider a casket arrangement in an alternative base such as a reusable trough or tray using chicken wire for stem support. 

If you must use foam, use a soil-friendly mineral foam alternative (e.g. Agrawool natural floral foam) on a biodegradable base made from plant material.

Consider using a series of smaller bunches positioned to form a larger arrangement. These can be taken home by family afterwards.

Use materials from the family's or the deceased's garden.

Communicate with the funeral home to ensure effective handling of the design. 

Encourage mourners to keep flowers afterwards.

Discourage burying foam-based arrangements with the coffin. Simply explain to your customers that many florists now do not use foam because of the threat these plastics pose to the environment. 

Stick to natural ties and fabrics if being buried: Jutes, sisal, cotton, hemp.
Emily Bradbury from North St Botanical in Melbourne, Australia, has developed a reputation for her foam-free funeral designs which incorporate a reusable base constructed from chicken wire and moss. Thanks to a good working relationship with The Last Hurrah Funerals, Emily has the base returned after the service. Clients are always encouraged to keep the flowers or have them distributed to mourners, with Emily supplying brown paper and string for this purpose. 
In addition to casket designs involving the use of a base, Emily also offers hand-tied sheaf style arrangements, or she creates multiple individual bunches that are assembled on the coffin on site to ensure correct placement. 
"My funeral clients are usually clients before their loss," explains Emily. "I am the family florist and there is already an established relationship. They know that I am going to put a lot of love and care into the arrangements and so when it comes to me advising them on the best design, they trust my advice. This extends to the structure of the arrangement I am going to make."
"I never send my funerals with a courier. I always deliver myself to ensure that everything is perfect. This is someone's final tribute and I feel that the flowers deserve as much care as possible."
Sarah is a florist of over 30 years experience and currently specialises in eco-friendly funeral tributes. Sarah made the shift to specialising in funerals after the death of her son in 2018. 
"I was lucky enough to freelance for a friend who was already foam-free, Fiona Perry, and she gave me the confidence to go ahead and do the same. I have always been drawn to funeral work and now had so much empathy with bereaved people that it seemed the way forward. So I guess that's where I specialise.
"People find me through social media and word of mouth – I'm well known from my shop and running a charity in my son's name. Our local undertaker is very supportive and hates floral foam which is a massive help, often explaining to people the damage that foam does to the environment.
"When I started out there was still little information about foam-free funeral work. So I had to work out how to go about it in a sustainable, foam and plastic-free way.
"I'm very lucky that my partner is very hands on, good with a jigsaw and can help interpret my designs and ideas. 
"We also have a small wood with a hazel hedge which we have coppiced to use the sticks. I have always loved the countryside and foraged since I was a child I guess, so rummaging in hedges seems pretty normal to me! 
Learning how to make posy bases from willow wasn't hard, and YouTube is handy for ideas.
"Do they take me long? Well I think they possibly take a bit longer to design but no, once I know how to do something it doesn't take long. 
"Profitable? Yes! I believe they are. Sideau by Agrawool is still almost double other foam products at the moment, but far more versatile and can be reused over and over. I really like it now I'm used to it.
"I am very much in contact with our most local natural burial ground and have delivered to one a bit further away. We have a lot of support from a colleague Sheridon Rosser for our project "Foam Free Future". We hope to educate and inform the funeral industry of damages caused by foam and plastic.  The local church yards are still reluctant to ban foam but we are working on them and we have spoken to three large crematoriums and all are very keen to engage. One went as far to say they were willing to ban the use of foam in their crematorium."
Case Study #3
Telopea Flowers, AU 
Wreaths have long been associated with valour and sacrifice. We're all familiar with the image of a person laying a wreath during a commemorative event. The Romans crowned their victors in wreaths woven from laurel, and the ancient Greeks laid evergreen wreaths on burial sites. The wreath represents eternal life and its evergreen foliage the eternal spirit.
Commemorative wreaths are different to decorative wreaths. They are more uniform in shape and – importantly – are not heavy with long or loose materials around the perimeter. This shape is necessary as the wreath is often propped up against something so it needs to sit neatly on its side. If it's too irregular in shape or the contents extend too far from the base ring, it becomes flat on the part of the wreath that sits on the ground.
Below is the technique I developed to assemble plastic and wire-free commemorative wreaths for the Shrine of Remembrance in Melbourne. The instructions below are for a simple eucalyptus wreath, for the purposes of demonstrating the method, but of course there are many seasonal materials you can use including flowers and foliage, nuts and berries.
Materials and sundries
Three big bunches of small leaf eucalyptus.

Two pieces of wisteria vine approx 3m and 1.5m long. You can also use grapevine twisted together, willow or any other malleable but sturdy vines or small branches.

Snips.

String or gardeners' twine.
Condition your materials, keeping in mind they need to look good for a day or so out of water. I prefer to cut materials as I go, but to begin with I give all materials a good snip and a sit in deep water overnight.  
Assembling the wreath